Life is full of distractions. Yesterday's post is now today's, due to some quality time with insurance people (yuck) and exterminators (double yuck). My cute little car got sideswiped and it took a week to get the guy's insurance to admit it was all his fault and send an appraiser. Thankfully the appraiser realized HOW NICE MY CAR IS and gave me a good deal (it is a 1995 but he was so impressed he said it could pass for a 2005). And now it will be another week until I can get it fixed. Ugh.
And of course the roof rats are all excited now that somebody is living here and keeping food in the house and it is horrible. And as soon as the exterminators arrive it starts raining on them, poor guys. I really like them though, they are totally poison-free and are climbing around the roof "excluding" the rats from the house - they trap the ones in the attic and then no more can get in because they are closing off all the holes from the outside (knock on wood). So it will be nice to get that over with. Yuck.
Anyways, onward and Cure-ward.
Week 2: Develop floor plan and Shopping List
--What activities will this room house? (given the overall space)
--Make a floor plan
--Name your vision
--Build a shopping list
Um, this room is too small to have much of a floor plan or a "vision". It houses my desk, where I work, and a loveseat, where I plan on sitting and reading. There is ideally room on the floor for an air mattress for guests. That's it. It's small and square and full of bookshelves so there is not a lot of rearranging leeway. The wall with the entry door also has the closet door, so there is a bookshelf between the doors and that is it. The facing wall has a big window and the loveseat pretty much has to go there due to bookshelf/door configuration. My vision is cozy and somewhere I can hang out and have room to read or work on my computer or practice my tuba. And hell if I can find any cozy green office pictures to go with it.

Shopping list:
paint- I have actually found a pleasing sort of a lemongrass shade that I think will go great with the existing furniture and my awesome new rug.
picture frames
rug pad
closed storage for magazines and desk stuff
Enthralling, I know. But stuff needs doing. This version of the Cure seems to leave out a lot of cleaning and decluttering but you can assume I will be doing that anyways. The closet is my secret stash area of things I have no way to deal with right now, but eventually it will hold stored desk and crafting stuff as well as sheet music. So it can't be overflow linen closet and garage storage, oh no it can't.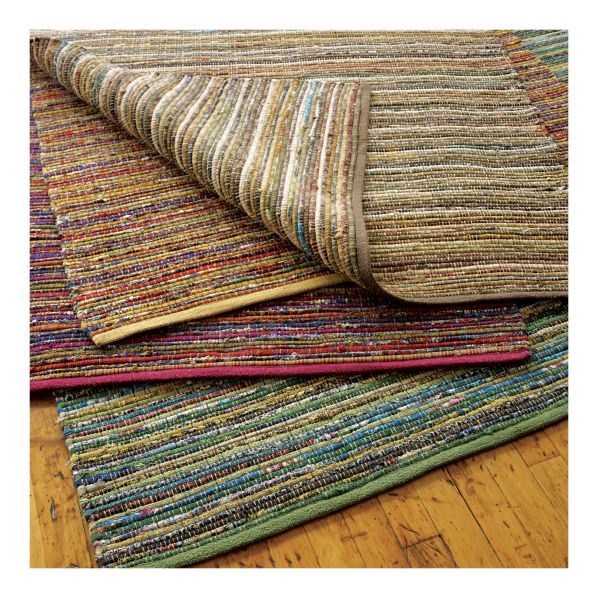 Here's a shot of my only new purchase for this room - it is the green rug on the bottom. And it is much more pleasingly vibrant and variegated in situ, so I am happy with it. It just desperately needs a rug pad as it slides around on the wood floor and this makes rolling a chair around on it really annoying.