Cute? Or too old-lady? I want to wear them to
Tubachristmas
with a short skirt and bright red tights. Would it work? Tuba notwithstanding. The heel seems to be reasonable without being
too
frumpy. I think...
To clarify:
1. I have slightly kooky taste in shoes. My clothes may be pretty staid but I like a goofy shoe. Seriously, I would probably own most of the shoes
Pink Studio
makes (except for the
serious
heels). I would sell somebody's grandmother (not mine) for these:
However, this leads us to:
2. I can't buy shoes in stores. There is no trying-on. I wear a 12W. Most brands do not produce shoes that big. Pink Studio certainly does not. Clarks does. They are about the only brand I have found that aren't either totally orthopedic looking or just plain frumpy (I think this may have led to my tastes getting weirder over time).
3. The goal is actually some shoes I can wear when going out in winter. We are not chauffeured to our partying here. We park places and walk other places. Weather is shitty. And I fall down in heels over 3". Sober. So these babies are not gonna happen.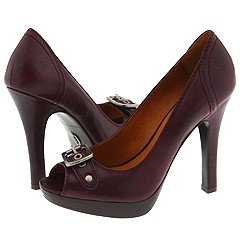 I may just have to see if they are frumpy in person or not. Endless.com does have free shipping...
Maybe when they go on sale.