1. What is the problem with your yard/balcony/potted plant?
It is big and empty. We like to use the concrete patio but the mulch I put down blows onto the patio. I believe someone called it "a clean slate". No kidding. It is way too much wasted space that I want to use.
2. What would your garden say?
I'm booored. You have barbecues, and your guests never see anything because I'm so barren! I want to party too!
3. What is lacking that you would like to do?
Separate zones - multiple areas where one would like to hang out in my yard instead of huddling on the patio. This could include a hammock or a fire pit area... we've got the space. And I'm not super worried about fire safety as it's mostly sand (and soon to be gravel!).
4. How would you like your garden/landscape to be described?
Tidy and interesting. Just a little less part of the desert and more part of my home.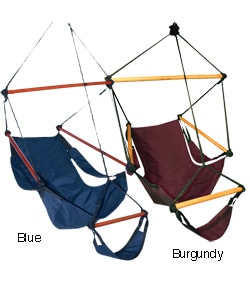 Also, overstock.com might get me in trouble. How wide of a branch do you think I would need to hang one of these from the maple tree? I might have to plant something to hide the compost pile...